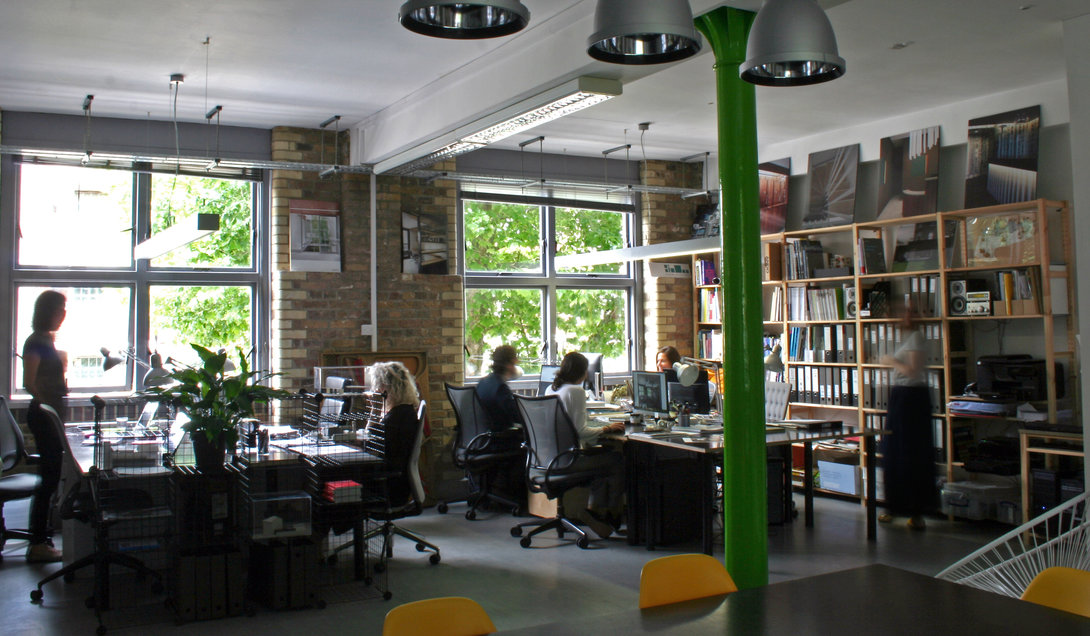 Binom Architects is a London-based design practice founded in 2010 by architects Marta Granda Nistal and Gonzalo Coello de Portugal.
Marta Granda Nistal and Gonzalo Coello de Portugal founded Binom in 2010 after having led on architectural projects whilst working for practices in the UK, Spain and USA. Since then, their projects at Binom have included ephemeral installations and exhibitions, private houses, residential blocks, office fit-outs, as well as cultural spaces. The practice has also worked on shop interiors and completed its first restaurant. Many of Binom's project involve listed buildings integrating period features in the designs.
Binom's clients range from public authorities to entrepreneurs to private individuals and families. The architects are interested in how the buildings can ground a client's vision in physical form and how the team can make the most of each site. Other important considerations, such as climate, topography, sense of place, well-being and sustainability inform the practice's approach.
At Binom, digital processes are combined with high standards of craftsmanship. Attention to detail from concept to completion is essential to the practice's design ethos. This is supported by the team's practical ability in understanding how buildings are made together with Binom's methodological approach to running projects.
This combination of technical and organisational expertise with a poetic disposition to architecture is at the heart of how Binom think about the design process. Research too is important to the studio's way of working, be it focussed on a building's environmental or social context or a specific technical resolution.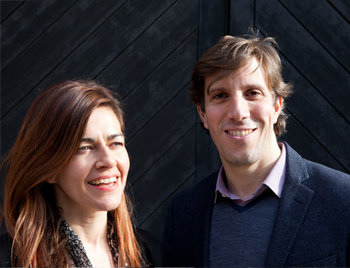 We are interested in how architecture creates a threshold to the world, how it grounds us to where we live or work or to a place we happen to visit. Buildings should not just be isolated containers but embedded in their environment. We enjoy the way buildings can extend this environment whilst providing shelter and seclusion. We apply a layered approach to our designs to achieve this. Sequences of spaces that unfold thereby allowing one to experience a building gradually while moving through it.
We are interested in how architecture
creates a threshold to the world,
how it grounds us to where we live
or work or to a place we happen to visit.
We like the idea of spatial release achieved through an unhurried and progressive reveal. A screen that allows one to imagine another room before entering it. A staircase that leads to a skylight.
Sometimes we do the opposite and contract spatially to create intimacy by putting in, for example, a mezzanine that feels like an attic, a secret room. Corridors and landings too can be evocative in this way especially in public buildings pacing one's experience of these. Semi-external spaces are useful in terms of embedding a building to its immediate surroundings. This is particularly true of large scale interventions.
"…Our intuitive and pragmatic approach to design that is more research than theory based. We design through making…"
We welcome the way daylight brings a room to life through a play of shadows and by picking up on surfaces and their different textures. Climate plays a significant role in the way cultures live and this inspires our work be it in cities or rural areas. This is particularly noticeable if one compares our projects in the United Kingdom to those in Spain.
We were both educated in Spain and this is visible in our intuitive and pragmatic approach to design that is more research than theory based. We design through making, working back and forth between 3D digital design processes and traditional techniques. We have a close collaborative relationship with both our design team consultants and the joiners, metalworkers and upholsters we know well from past projects. We see this hands-on approach as part of the poetic response, for it creates an empathy with how materials perform and how buildings are put together. This also builds on the practical and tectonic emphasis of our early training in Madrid.
We see this hands-on approach as part
of the poetic response, for it
creates an empathy with how materials
perform and how buildings are put together.
Materiality is important to us. Each material whether new or old has its own meaning. We choose materials with that in mind, always assessing what its weight, density or porousness might say about it. We talk about the sense of time that is embodied in materials. The tactile qualities of material matter to us a great deal. How does something feel in different temperatures. How materials will age fascinates us as we believe that sustainability is also about building things that last and can be reused and adapted.
Finally, we believe buildings need to function but they are not just for performing tasks. We like to think of them a bit like neighbourhoods or landscapes - as places to stroll. Places to enjoy just the very act of taking them in, of wondering what's next door; or just for retreating into, away from it all.
Marta Granda Nistal
BA (Hons) Dip Arch ARB RIBA
Marta is Director at Binom Architects. She studied Architecture at the Universidad Politécnica of Madrid (ETSAM) and the Illinois Institute of Technology, Chicago, and she moved to London in 2004.
Previous to founding Binom Architects in 2009 Marta worked in well-known architectural practices such as Ron Arad Associates and Hopkins Architects in London, ACM in Madrid and Studio Gang and SOM in Chicago. During this time she was involved in a varied range of high profile projects including Hotel Puerta America in Madrid, a luxury apartment building in Camden Town, social housing schemes in Madrid and the interior design of the Dobrininsky office building in Moscow.
Marta has been involved in Academia since 2008 and she currently works at the Bartlett School of Architecture UCL as Design Realization tutor for Diploma Unit 22. She previously worked as Associate Lecturer at Central Saint Martin's University and the London Metropolitan University.
Gonzalo Coello De Portugal
BA (Hons) Dip Arch ARB COAM
Gonzalo studied at the Universidad Politécnica of Madrid (ETSAM) and the Universitá La Sapienza, Roma, and is a registered architect both in London and Madrid.
Having taught at the University of Greenwich, he is currently a design tutor at London Metropolitan University and is a regular guest external critic at the Welsh School of Architecture.
Gonzalo worked in Rome and Madrid before spending five years at the award–winning London–based practice Eric Parry Architects. He was involved in numerous high projects in London including an office building in 60 Threadneedle St, an art gallery in Mayfair, and the extension to the Four Seasons Hotel on Park Lane. He also worked in Kuala Lumpur for the development of a luxury condominium, and specialized in high end residential schemes in central London, being the project architect for the refurbishment and new–build works to a Grade II listed building in Belgravia.
ESTER DIAZ
BA (Hons) Dip Arch
A graduate in Architecture from the University of Seville, Ester has helped the team to develop a broad range of exciting projects in the office. Her acute attention to detail and perfectionist personality help to deliver ambitious as well as well validated designs. Since joining Binom Architects, Ester has been working on residential projects in London as well as in the design and execution of a co-working space in Madrid.
laurence flint
BA (Hons) Dip Arch
Prior to his graduation with distinction at the Bartlett School of Architecture, Laurence gained valuable work experience at Kengo Kuma & Associates in Tokyo and several other architectural offices in London. He is interested in the relationship between rights and architecture and enjoys experimenting with new methods of fabrication and technology whilst keeping sketching and model making as a key way of developing ideas. Since joining our team he has focused on developing from concept stage the design of a large creative co-working office space in Madrid, applying his 3d modelling skills and high sensitivity make his input a great asset to the office.
mai que ta
BA (Hons) Dip Arch
Mai is a March graduate from the Bartlett School of Architecture with a keen interest in thoughtful, experimental and tactile design outputs which span art, architecture, design and fashion. Prior to joining our team, she worked at Henning Larsen Architects offices in Hong Kong and in Copenhagen. Mai applies both her professional experience and high-level design skills and has helped to developed sophisticated interior design packages for our office fit out projects in London and Madrid
NIEVES SANCHEZ
BA (Hons) Dip Arch
Nieves studied architecture at University of Las Palmas de Gran Canaria and Chile and carried on her studies in Shanghai before joining Binom Architects. Her design sensitivity and hands-on approach to design allows for substantiated design solutions. While working at Binom she has been involved in the developed design and the tender package of the co-working space in Madrid as well as helping to structure and manage the office website and social media accounts.
PRIVATE CORPORATE CLIENTS
Project Management Spain
Bodegas Gonzalez Byass
CECA Bank
Empty SL
Entra Real Estate, Norway
Green Network Energy, UK
Grup Idea
H10 Hotel
Lopez Landa
Minh Tala dance Company
One55 Fenchurch Real Estate
Prointec
Roca London Gallery
Save the Children
Swimming Nature
Swoon Editions
Utopicus
PUBLIC INSTITUTIONS
Basquetour
Comunidad de Madrid, Spain
ICEX (Spanish Economic & Commercial Office)
Instituto Cervantes
Haugesund Kommune, Norway
Ministerio de Medio Ambiente (Spanish Ministry of Agriculture)
Spanish Embassy in London
Spanish Tourist Office in UK _ Turespaña
Turismo Galicia
Venezuelan Embassy in London