03.02.2019
Published at The Sunday Times HOME
Steep Impact is the title of the article featuring our House in Pear and Larch
Have a look at the full article @SundayTimesHOME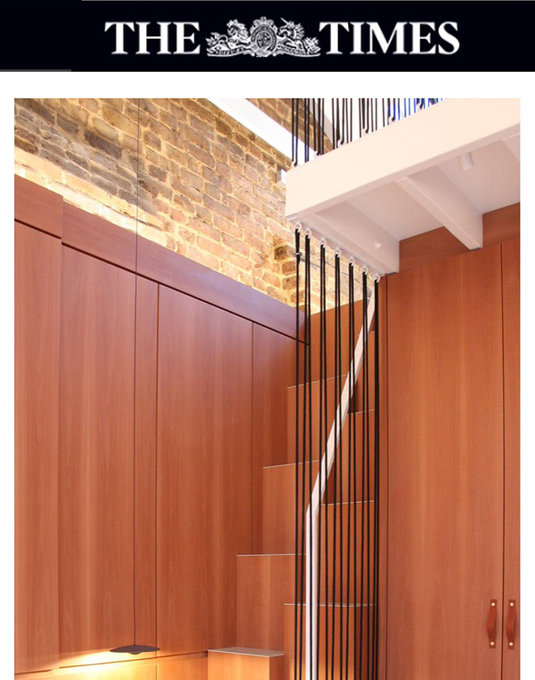 25.10.2018
Green Network's new office opens in Croydon
Binom's first Office-scape project ever built, a 2,000sqm fit out
A turnkey project delivered in collaboration with Lopez Landa fit-out contractor, the new office premises offer a diverse array of spaces to meet, focus, unfocus and break out. More photographs by Nick Kane and a full description of the project will be released very soon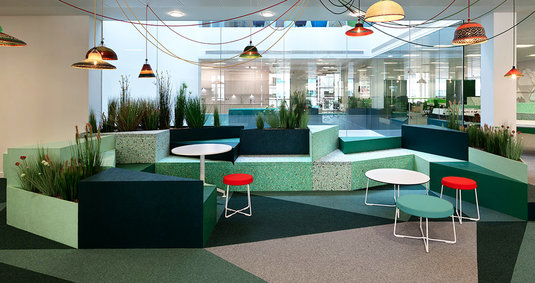 24.10.2018
AD Spain features Elvaston Place residence in their November issue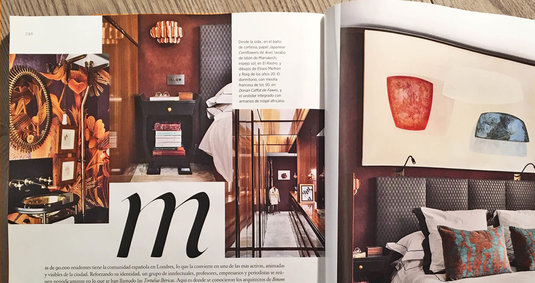 07.10.2018
PlayFull Home in Architectural Digest
Our project for PlayFull Home has been featured on AD Online – Titled "Un DISEÑO flexible para durar en el TIEMPO" (" A Flexible DESIGN to last") please click here to see the feature
11.09.2018
Architectural Today features our House in Larch and Pear
We are very glad to see our House in Larch and Pear featured in Architecture Today magazine! A period house gradually extended for a growing family. We started by doing their garden extensions, only to be called a couple of years later when they needed to accommodate their second baby and we were given the opportunity to design their upper floors, including the cosy master bedroom designed as a sequence of atmospheric vertical spaces.
Have a look at the article here.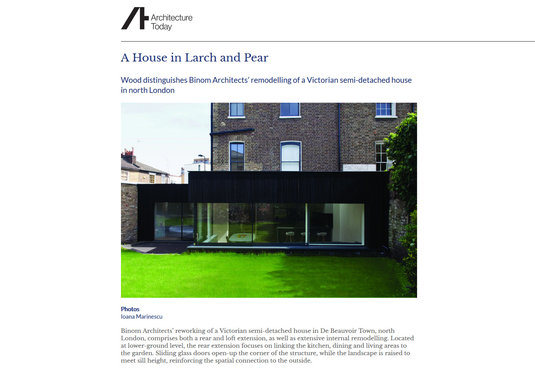 23.08.2018
Binom's first restaurant in London hits the headlines at Architects' Journal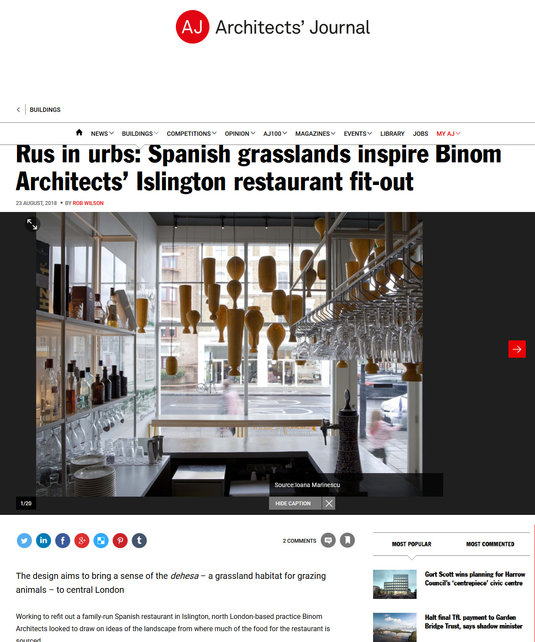 31.07.2018
Full steam ahead work onsite at the new office HQ that Binom is designing for Green Network Energy in Croydon.
The project is the first of our Office-scapes studies to be built, offering a diverse array of spaces to meet, focus, unfocus and break out. An army of joiners is doing an amazing job onsite building a sculptural OSB topography designed for events to take place, including light installations and human-powered devices competing between each other.
More info soon at www.binom.co.uk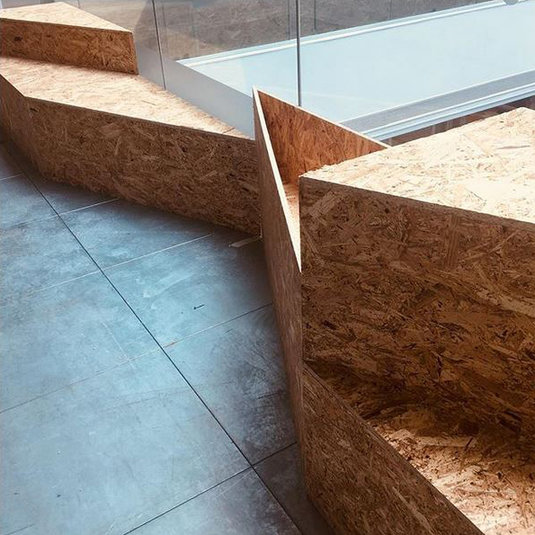 17.07.2018
Vespa Chandelier finally taking shape!
Vespa Chandelier featuring 15 Vespa front lights adapted and upcycled into a fancy pendant sculptural lighting.
Three Vespa chandeliers will welcome visitors and clients at the London office HQ designed for @green_network_energy_it by Binom Architects.
Manufacturing: @skk.lighting
More info soon at www.binom.co.uk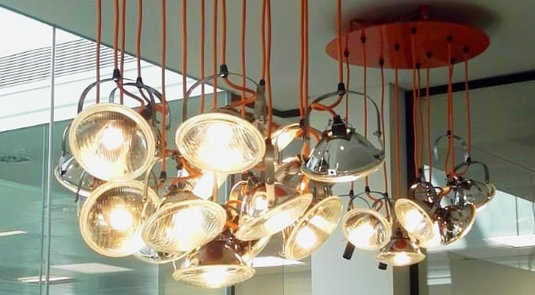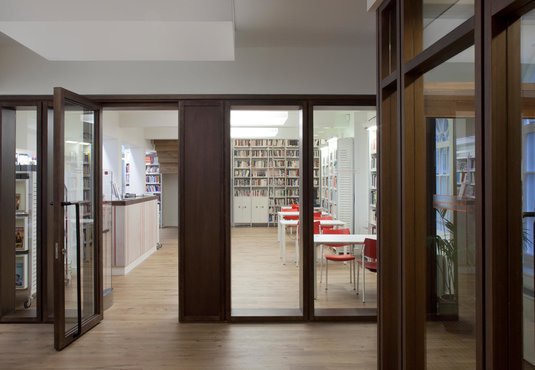 09.03.2018
Competition winners! Productive Office-scapes: the new offices for Green Network Energy
The proposal features the design of the new 2,000 sqm office spaces for UK energy supplier Green Network in Croydon, UK
Binom has been chosen to design an exciting and innovative working environment for Green Network, a leading supplier of ecologic energy in UK and Italy. Following the principle that staff should be given control and flexibility in their work environment, Binom's crafts a variety of spaces that enable more connections helping people to interact.
One of the key drivers of the scheme is the idea of generating a palette of reconstituted materialities, where custom-made surfaces, objects, and spaces are built up again from parts.
The proposal also explores the concept of Productive Office-scapes, creating an environment that contextualizes members of staff with the concept of energy by allowing them to relax using human-powered devices. A range of atmospheric spaces to relax and switch off where people can become aware of their bodies through active engagement with space while creating a sense of community.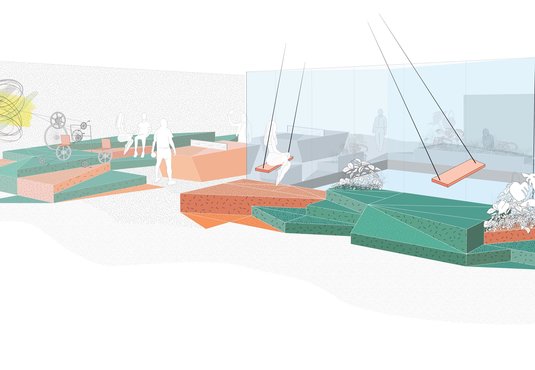 25.01.2018
PLAY FULL HOME (1960-2040) IN MADRID
Manufacturing of furniture pieces and spatial modules is currently under way
Binom is happy to release photos following a visit to the metalworker's workshop in Madrid. Our craftmen are currently busy finishing the production of custom made multifunctional modules made of tinted blue oak and blackened steel.
These units include shelves-screens, storage-benches, sliding panelling-shelves and pivoting enclosures. They are key components to the design concept of a flexible home able to easily adapt its layout to the family needs in the short, medium and long term. Completion due February 2018h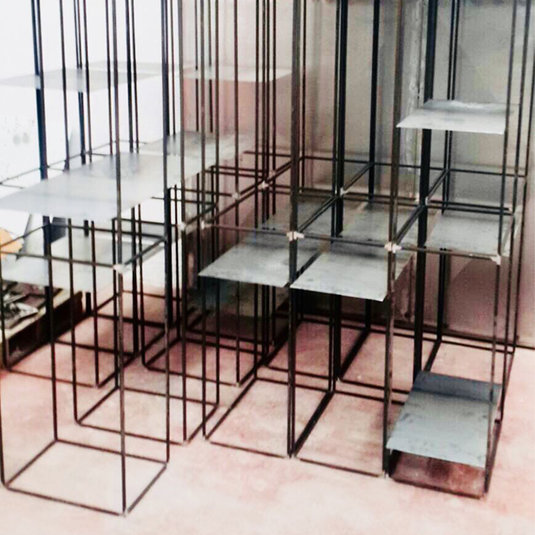 11.01.2018
Binom's design for a restaurant in Upper st, London
Our scheme for "Llerena" restaurant is open for business in Central London
Binom's proposal comprises the interior design, furniture and graphic design, including a 60piece glazed ceramic chandelier. The proposal extracts key elements from the dehesa fields, the iconic landscape of Extremadura, in the South-West area of Spain, and re-contextualizes them in London.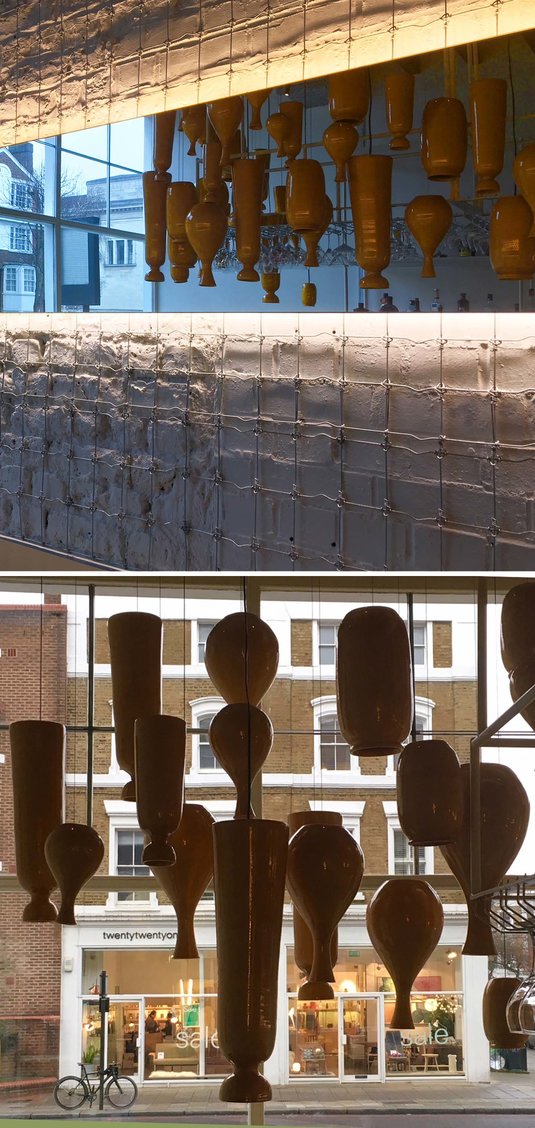 10.12.2017
Making furniture: an exhibition of Architecture student work
Gonzalo's First Year students at London Metropolitan University have just finished their 1 to 1 scale furniture structures
The project investigates design through the act of making; specifically, of making a piece of furniture. Exhibition open until 22 December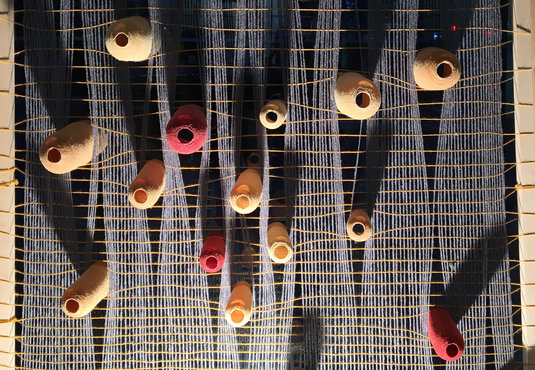 01.12.2017
Joining the Bartlett team, University College London
Marta is thrilled to join the amazing team of Izaskun Chinchilla and Carlos Jimenez at Diploma Unit 22, where she has recently started to work as Design Realization practice tutor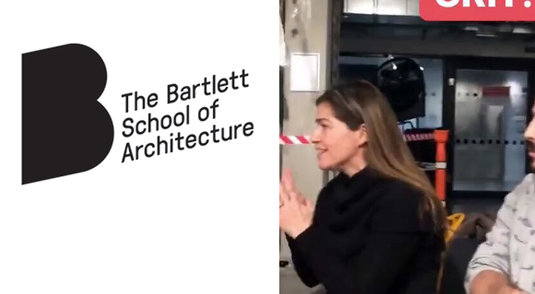 01.12.2017
Site works on going for the Ocean Liners exhibition at Victoria & Albert Museum
In collaboration with contractor Empty, a four weeks fast building programme has started at the V&A Museum for the Ocean Liners exhibition
Binom is collaborating with specialist exhibition contractor Empty on the construction and site management stages. Completion due for January 2018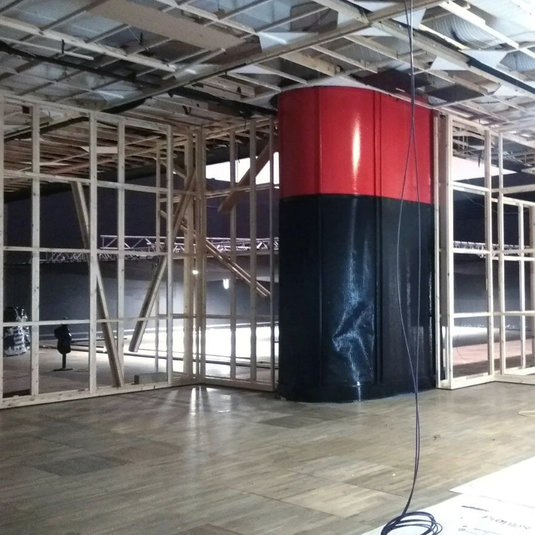 15.11.2017
Play Full Home (1960-2040) in Madrid
Work carries on in Madrid at our residential project in C/Gutierrez Solana
A flexible home able to easily adapt its layout to the family needs in the short, medium and long term. Completion due January 2018h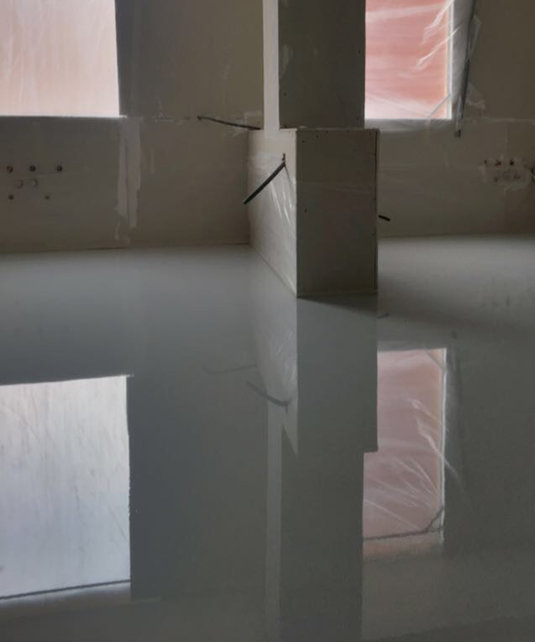 10.11.2017
"House in larch and pear wood" has just been completed
The residential loft conversion in De Beauvoir has just been finished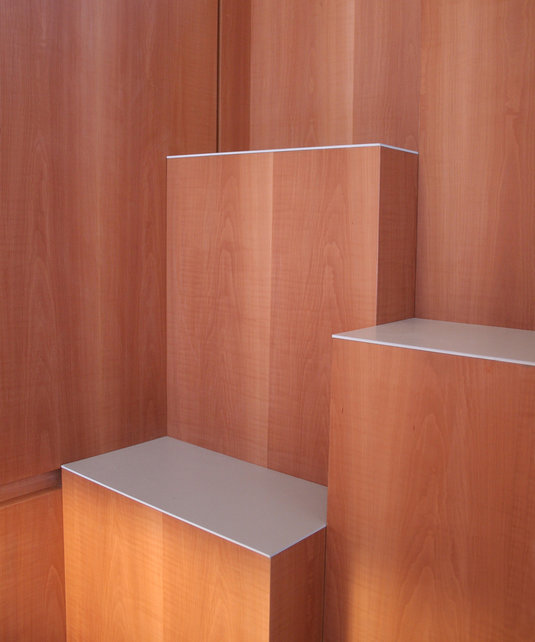 30.06.2017
Pintxos Temporary Bar is up and running in Regent's Park
A turn–key project in collaboration with Iberica restaurant.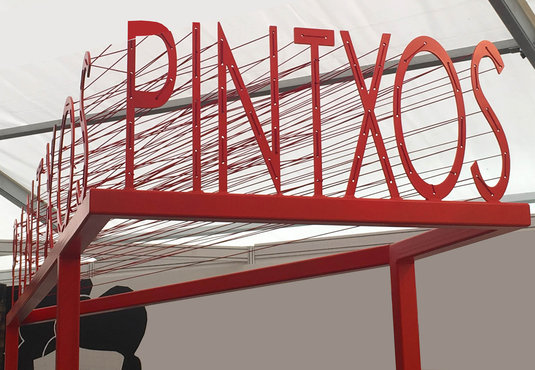 25.05.2017
Opening of the New Cervantes Institute in London
A Binom design for the renovation of a new 1200 sq m building in Strand, Central London. 2017
Binom is proud to announce that the New Cervantes Institute in UK is open to the public. The re–modelling of the historic 1940s building features a stunning double height library space connected to a new reception lobby that will act as event space. 
The opening event has hosted acclaimed Spanish writer Eduardo Mendoza's press conference after winning the Cervantes Prize. 
The renovation also includes 14 new classrooms and administrative spaces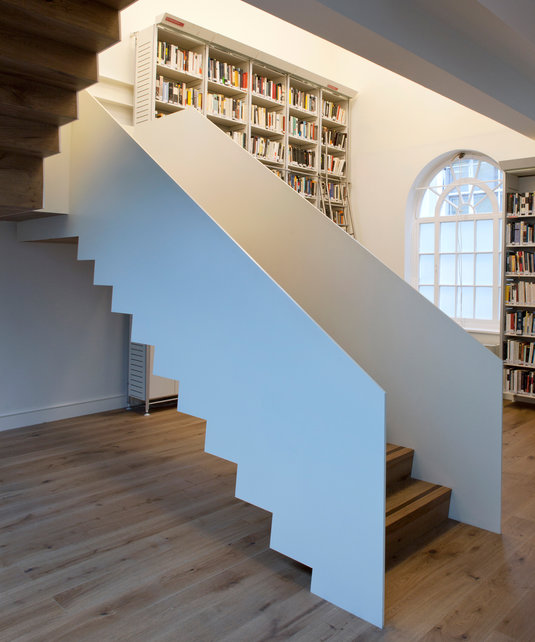 23.05.2017
Listed building consent granted for 39 Cornhill
Revamp of double height lobby and mezzanine spaces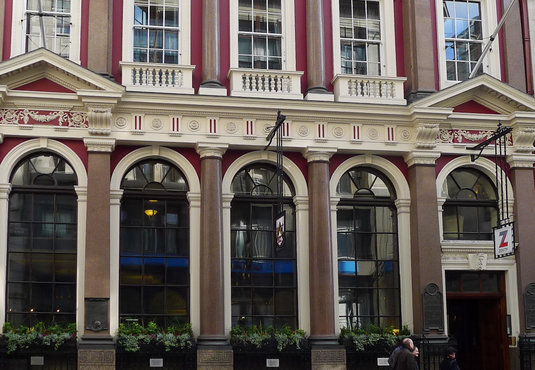 30.04.2017
The First Sherry Hotel and the charm of staying in a Spanish patio house
Historic refurbishment of four patio houses in Andalucia, April 2017 
We are pleased to release images of our proposal for a 30 room hotel in Jerez de la Frontera, Spain. A smart renovation project of 4 existing patio houses that belong to the Gonzalez Byass winery and form part of their facilities in Jerez town centre.
The project was presented on early April 2017 in Madrid including the landscape design of a new garden space adjacent to the hotel facilities.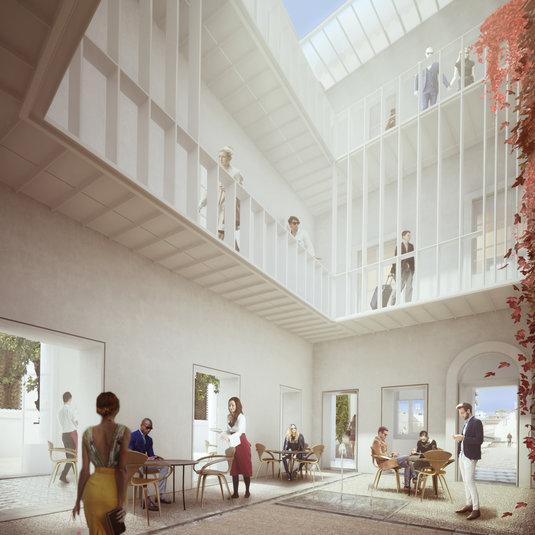 19.06.2016
IF THE SUN contemporary dance piece first rehearsal in Jordan
Binom is proud to unveil images of our first set design for dance company Min Tala, 2016
Binom is proud to present the set for IF THE SUN as a collaborative experimental work between Binom as architects and spatial designers and the team from Min Tala as experienced choreographers and dancers.
An interesting piece choreographed to be danced in open spaces in different cities. The brief called for a low budget creative spatial arrangement which could be manufactured by the dance company in the few days before the performance.
Binom proposed an ever changing urban ephemeral setting which gradually turns a street layout into a sacred space through a carefully orchestrated sequence of spaces of different degrees of privacy. The transformation is done by the dancer's interaction with flexible enclosures made of steel rods and concrete bases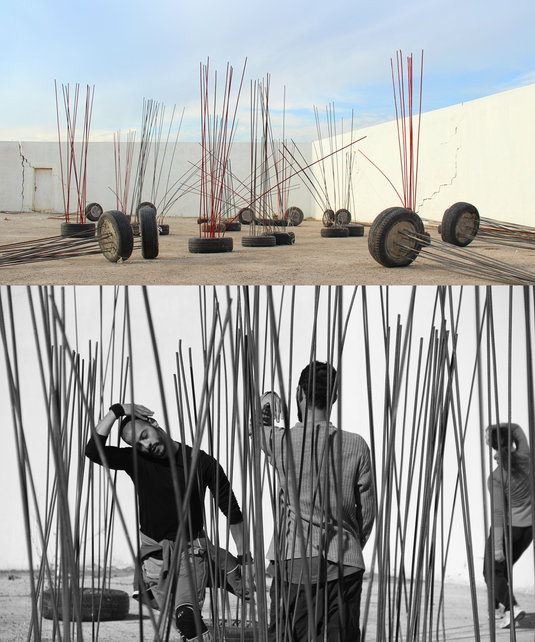 13.01.2016
BINOM's new lobby space design finished in the City of London
Renovation of reception areas at 155 Fenchurch st, March 2016
A turn key project, 155 Fenchurch st is located across the road from the well–known "walkie–talkie skyscraper". 
The brief called for an upgrading of the existing front reception area and back lobby space to create an smart and welcoming environment. Binom has developed the design of both lobbies throughout all design stages in close collaboration with the contractor, an efficient process that has achieved high interior finishes.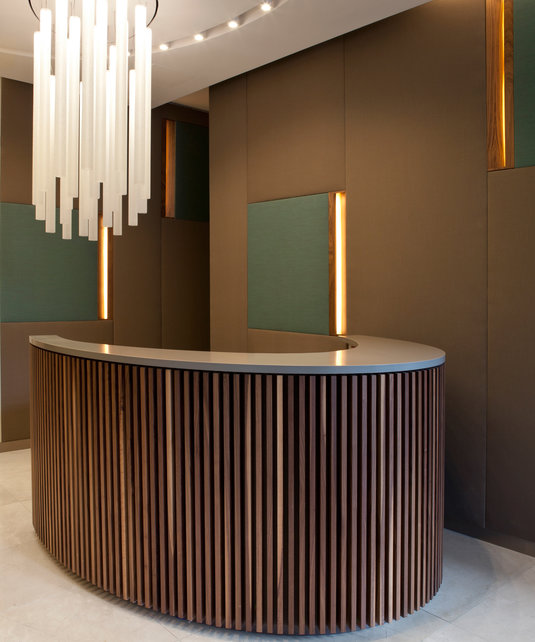 07.01.2016
Charred Larch Warm Larch residential project selected for the Don't Move Improve 2016 exhibition
Binom's residential extension in De Beauvoir will be exhibited at the Building Centre from January 2016
Don't Move Improve 2016 is an NLA awards programme recognizing London's best–designed and most innovative home extension projects and celebrating London's emerging practices.
Binom's project for the renovation and extension of a Victorian house in De Beauvoir has been selected as part of the longlist that will form part of the exhibition and publication of Don't Move Improve 2016. Final Winners and awards will be revealed on 21st January at the opening of the exhibition at Building Centre.
The Building Centre 26 Store Street London WC1E 7BT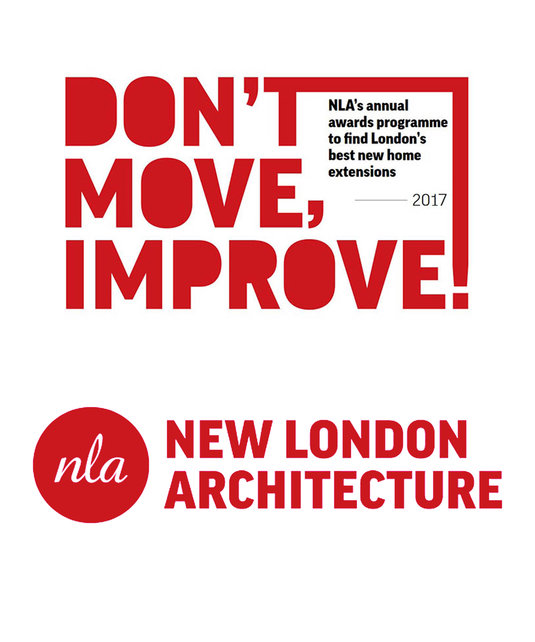 13.05.2015
Elvaston Place residence has just been completed
A high–end refurbishment and rear extension project in South Kensington May 2015
Binom has successfully completed an interesting example of Victorian interiors blending with contemporary design. More photographs coming soon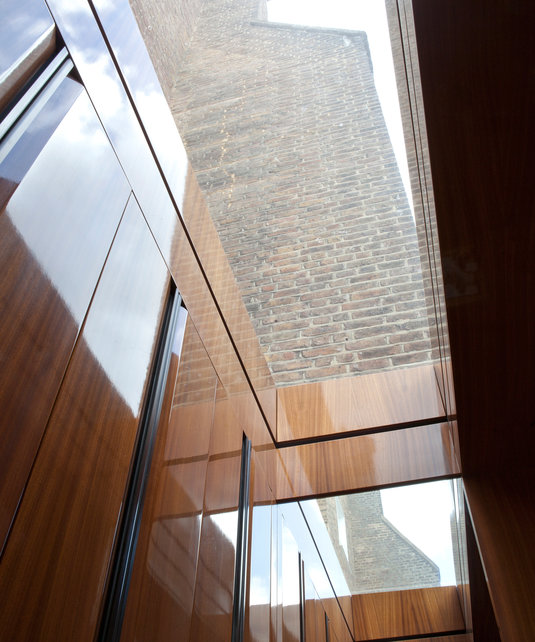 11.02.2015
The new Cervantes Institute in London will be a Binom project
Our proposal has won the public competition to renovate a 15,000 sqft building in Strand, Central London. February 2015
The Spanish cultural institution will move from his current address in Eton Sq to a the more central location at The Strand.
Site works are due to start in June 2015 and it is foreseen that the new Cervantes will open in autumn 2016.