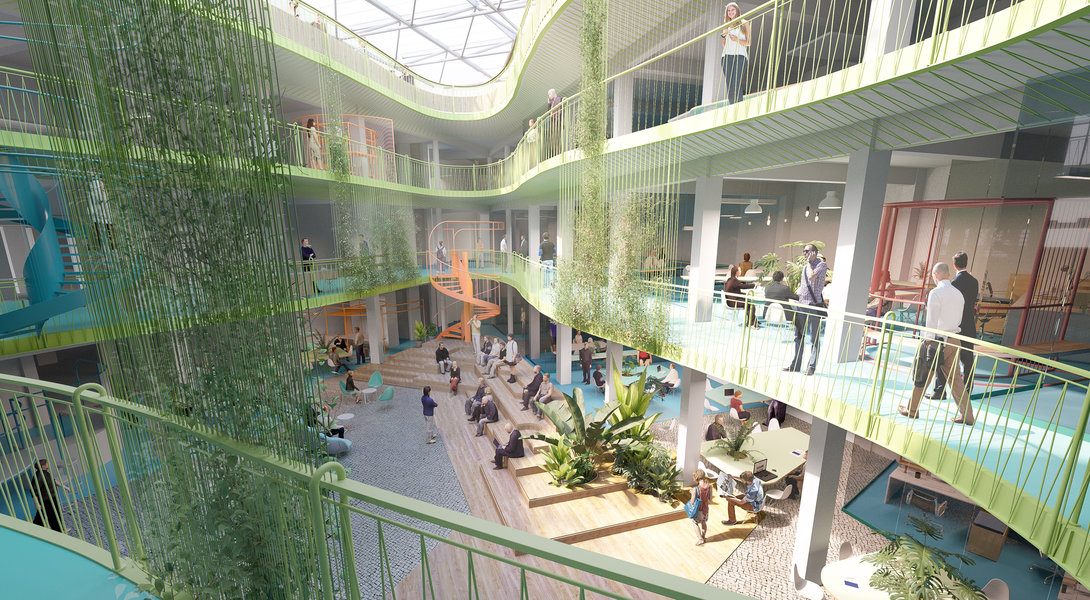 UtopicUS Coworking space & members Club in Paseo de la Habana
MADRID, PROJECT ON SITE. completion SEPTEMBER 2020
Private commission following an invited competition process for the renovation of a 5700sqm space in central Madrid including a new branded urban space to Paseo de la Habana
Carefully thought innovative architectural design has brought back to the city what until recently has been a derelict unused large commercial space located in one of the most desirables locations of Madrid. A challenging site located next to the financial district Azca, and built mostly inside the central courtyard of a residential block of flats, will soon become a new asset for the local economy: a co-working space offering 700+ workstations, together with event spaces for over 200 people and a private member's club.

Building on their background experience in retail and office projects, Binom Architects envisaged a design strategy that managed to turn the existing challenges into the project's selling points combining innovative design, carefully crafted aesthetics and storytelling. The core aims are giving urban visibility to an otherwise hidden space and turning it into a connecting hub, a project that maximizes visual, spatial and social connections.
A commercial unit where 90% of the space did not have façade or views out to the street and 50% of the area did not have adequate natural light has been converted into a light and airy office space with indoor gardens full of natural plants. What once was an outdoor space pocket with no particular character has become a charming square with greenery and seating areas and to be enjoyed by locals. The square is the entrance to the office space and includes an eye-catching canopy that will act as local landmark visible from Paseo de la Habana.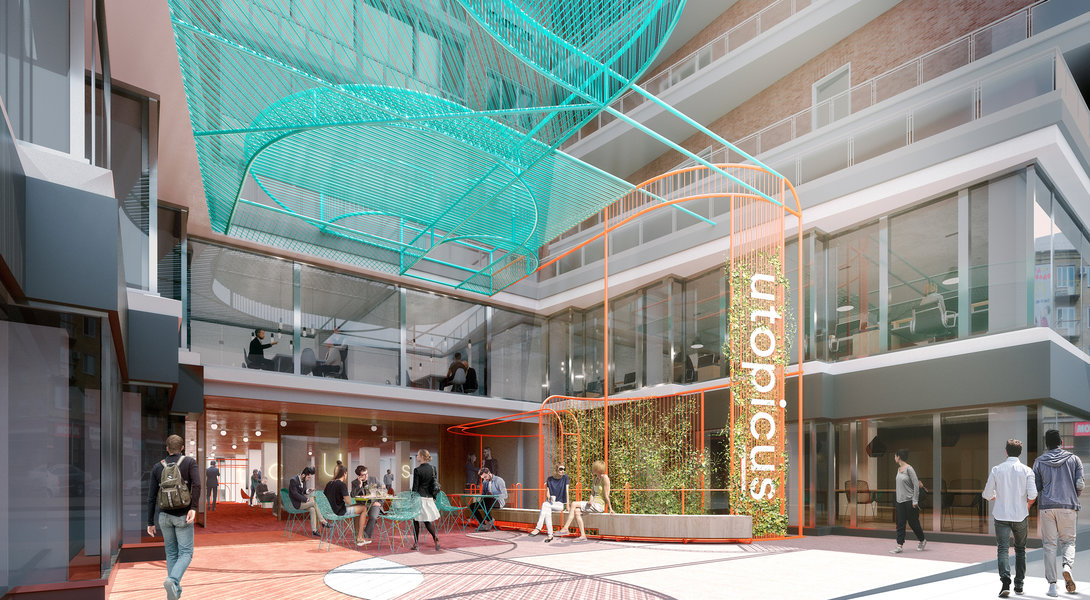 Binom has envisaged Jardin Utopicus as a place to boost creativity, productivity and the sense of wellbeing. Inspired by the English Pleasure Gardens that, back in the XVIII and XIXC, became venues of entertainment enjoyed by the working classes, the bourgeois and members of the aristocracy, Binom's aim is to generate a social hub where artists, entrepreneurs or small start-ups mingle with large corporations.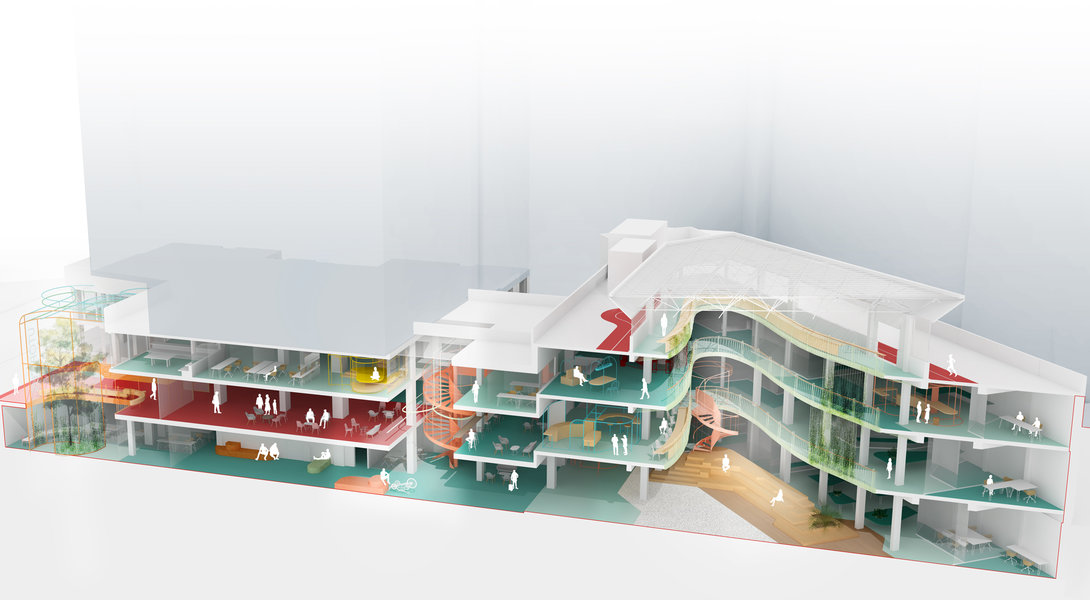 Fascinated by how the former British Pleasure Gardens became places of remarkable
artistic R&D in the fields of architecture and landscape design which led to increased
experimentation with music, theatre and other forms of entertainment, Binom's scheme for Jardin
Utopicus applies similar principles to a co-working/social space in the XXIC: experimental
organic colourful shaped structures made of metal and mesh will accommodate all shared programs like printing, coffee points, meeting areas or resting get-away spaces. On the other hand. In addition to the above, new courtyards rooflights have been opened in the existing structure and tonnes of natural plants have been integrated in the space in order to provide each
office desk with an interesting view out into either the city or a garden area. In Binom's experience,
having a place to look at is key for wellbeing and efficiency in working environments. Given the
constraints of the given site, making the interior feel like an exterior green space and creating a
singular iconic design have been the two keys to success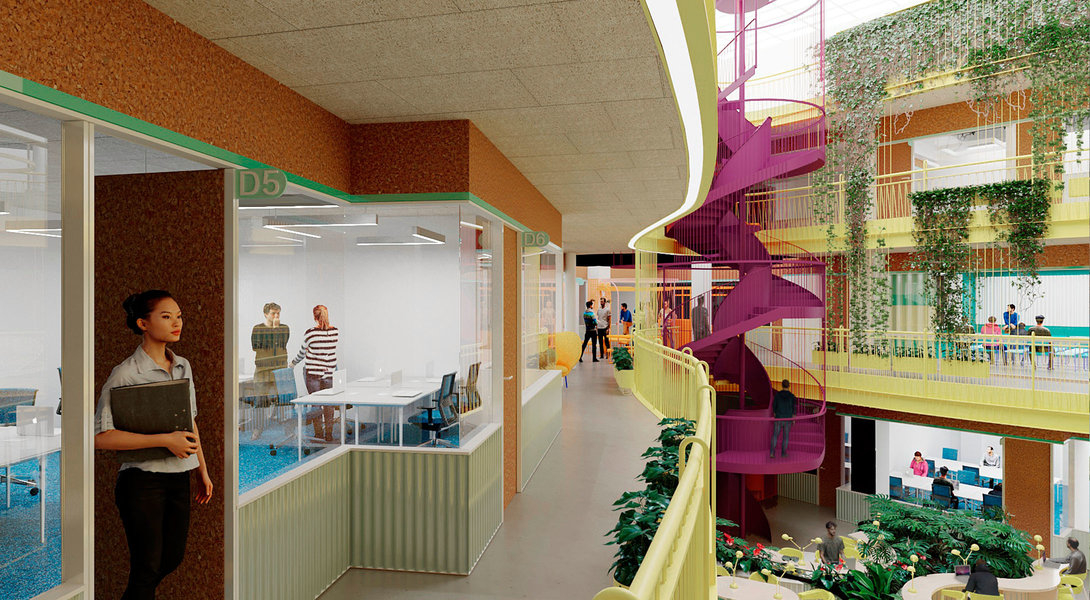 Designed with a strong human-centred strategy, Jardin Utopicus is full of places to focus and to
unfocus your mind, plinths to increase your visibility and connecting with others or corners to get
lost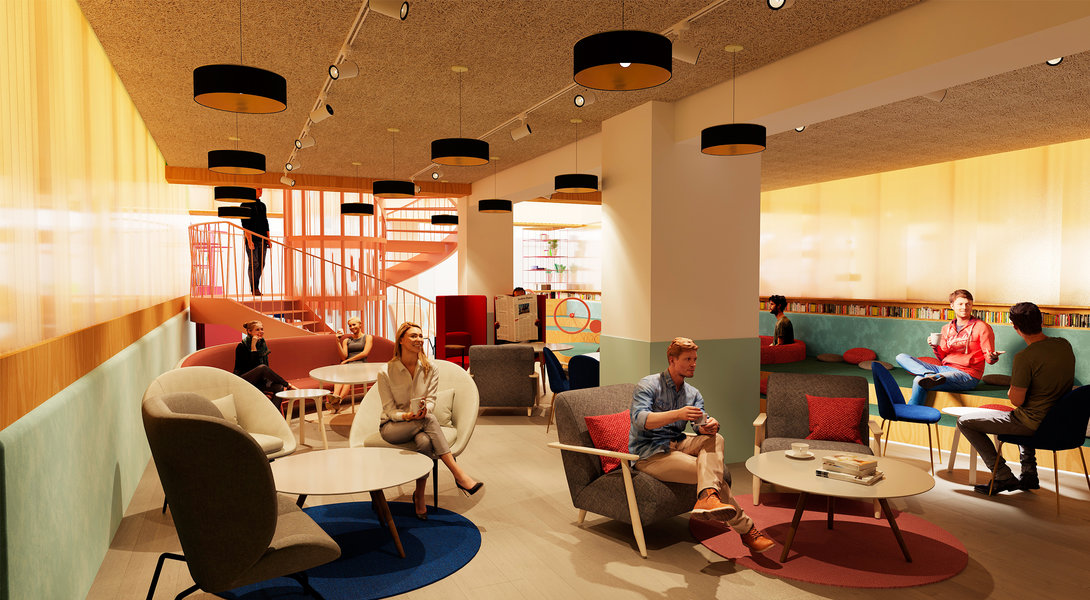 Location: Madrid, Spain
Client: Utopicus / Colonial
Programme: Siteworks to be completed Autumn 2020
Lead Architect and Interior Designer: Binom Architects
Local Architect DF: RCCyP
Lighting Designer: RDT ingenieros
Main Contractor: Construcia