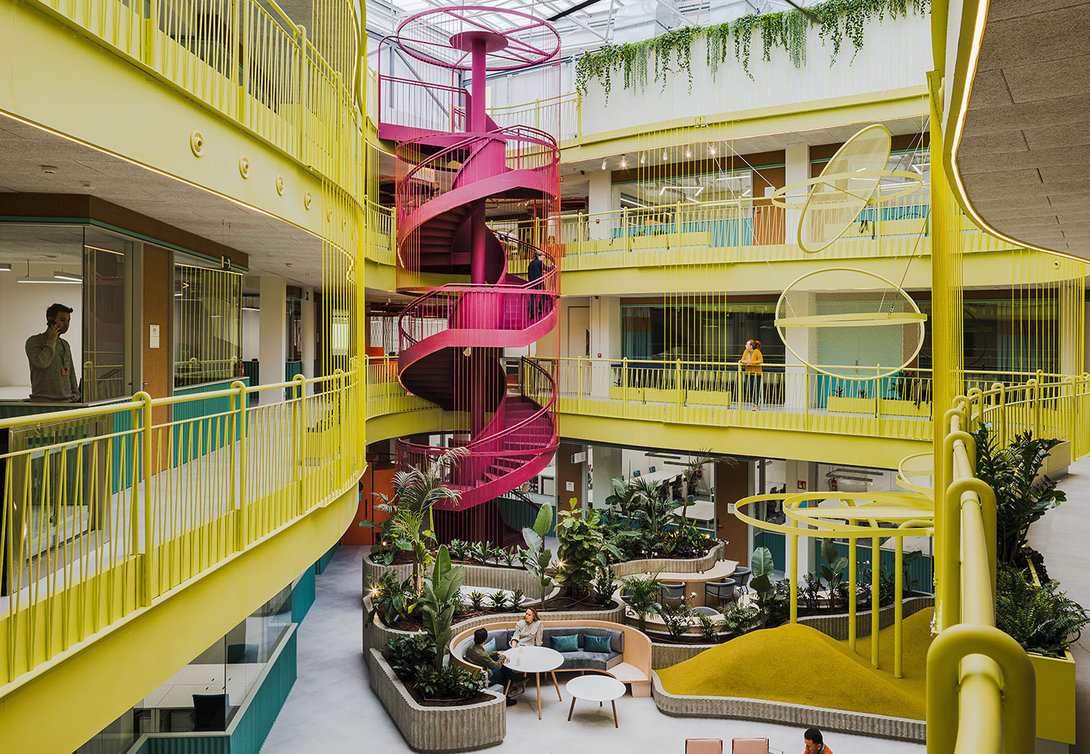 UtopicUS Coworking space & members Club in Paseo de la Habana
MADRID, PROJECT ON SITE. completion JANUARY 2021
Jardin Utopicus has been a unique opportunity to carry out a radical transformation of a derelict
5.600 m2 infrastructure in central Madrid and return it back to the local economy. In the post-covid era, where the virtual and real city are blending, Jardin Utopicus is a space of flexible offices that combines the use of technology with a highly adaptable layout, promoting a wide range of uses that overlap.

Sustainability, the introduction of natural light and new courtyards, the careful planning of areas to socialise, and a distinctive design with a bold use of colour and natural plants, are the key strategies that make this space work beyond the office use and become a hub for innovation and social interaction.
Strategically located next to Madrid's financial district Azca, the space was built as a shopping centre in the 1970s in-filling the large courtyard inside a city block in the prime location between Paseo de la Castellana and Paseo de la Habana. The premises, which closed business over 30 years ago, were stripped off and remained in a derelict state since then. The deep renovation now completed brings it back to life and will accommodate more than 700 workstations, together with event spaces for over 200 people, a private member's club and a public coffee shop.

Building on their background experience in retail and office projects, Binom Architects envisaged a design strategy that managed to turn the existing challenges into the project's selling points combining innovative design, carefully crafted aesthetics and storytelling. The core aims are giving urban visibility to an otherwise hidden space and turning it into a connecting hub, a project that maximizes visual, spatial and social connections.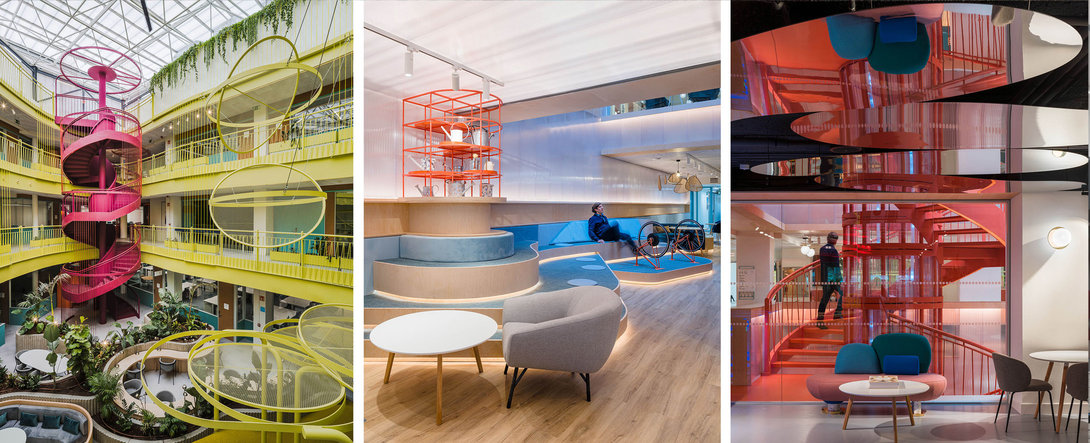 Building on their experience in working spaces, Binom envisaged Jardin Utopicus as a place to boost creativity, collaborative work and the sense of wellbeing. In an era post-Covid these offices offer an attractive and inspiring alternative to working from home, helping employees to re-connect to their jobs and to their work environment by increasing social connections and promoting employee autonomy.

Inspired by the English Pleasure Gardens that back in the 18th and 19th centuries became venues of entertainment enjoyed by all social classes, Jardin Utopicus is a welcoming inclusive social hub
where entrepreneurs, start-ups and large corporations could connect. In a world where, according to the latest studies, more and more urban employees feel isolated and find it difficult to engage
socially with others at work, the design created by Binom Architects goes the extra mile by providing interactive social spaces for organized events or for spontaneous encounters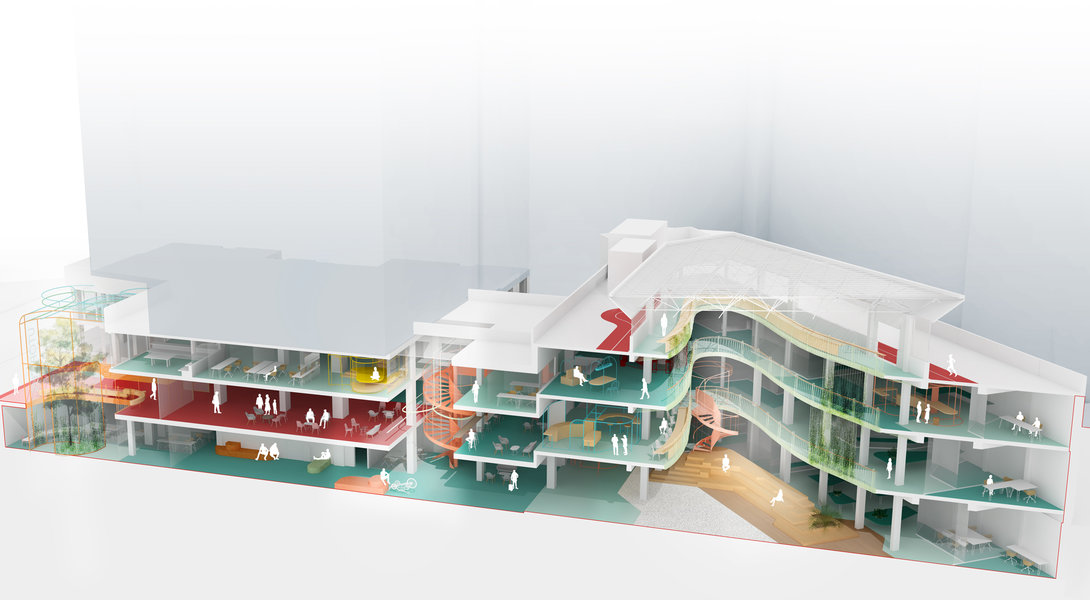 Fascinated by how the former British Pleasure Gardens became places of remarkable
artistic R&D in the fields of architecture and landscape design which led to increased
experimentation with music, theatre and other forms of entertainment, Binom's scheme for Jardin
Utopicus applies similar principles to a co-working/social space in the XXIC: experimental
organic colourful shaped structures made of metal and mesh will accommodate all shared programs like printing, coffee points, meeting areas or resting get-away spaces.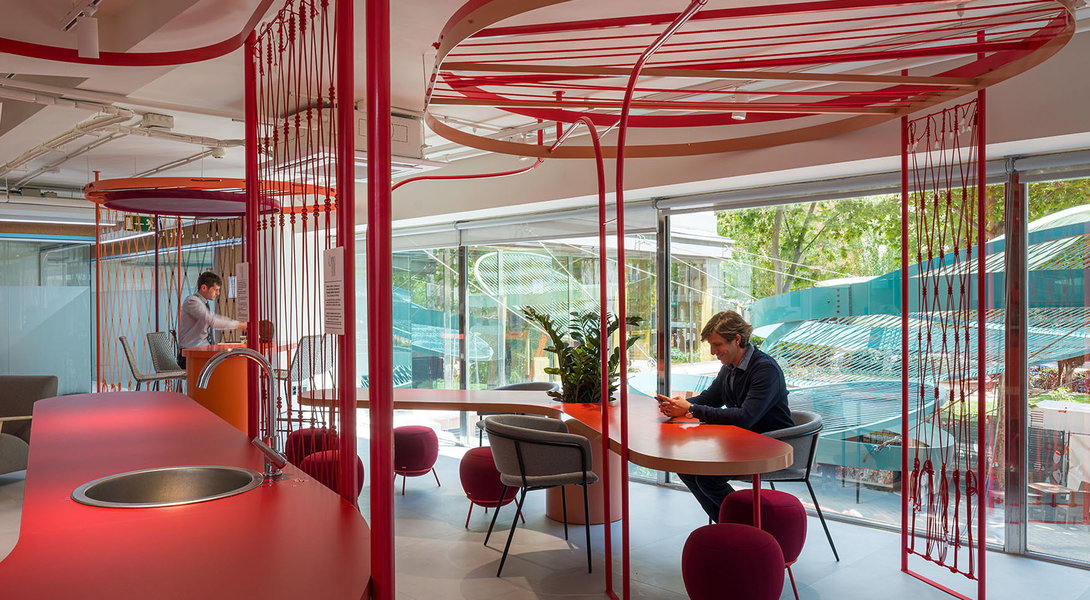 Work in the post Covid-19 era: shared workspaces as part of employees' portfolio of projects

Once the pandemic restrictions are behind, strategically located shared workspaces will be
important to facilitate flexibility of work for those employees who will no longer accept a long
commute to their offices. To retain talent, companies will have to give staff more autonomy to
decide where they work from within the agreed schedule: they can stay home, go to their offices or
to third places local to them but where they can find a designed work environment. Companies andemployees will be expecting these spaces to provide services and experiences different from their homes or their usual office premises.

Designed with a strong human-centred strategy, Jardin Utopicus anticipates these needs providing a diverse array of places to focus the mind or take a break, platforms to increase visibility and connect with others or corners to get lost and relax surrounded by nature.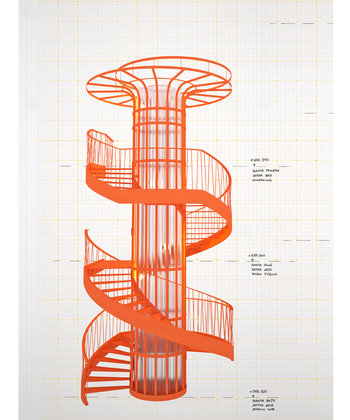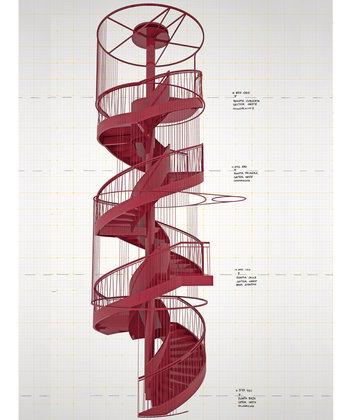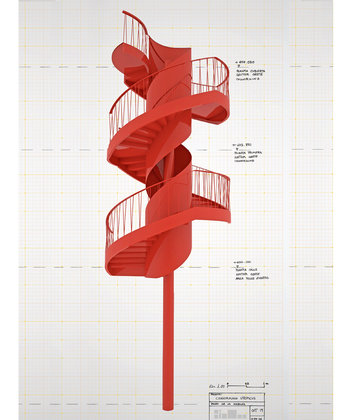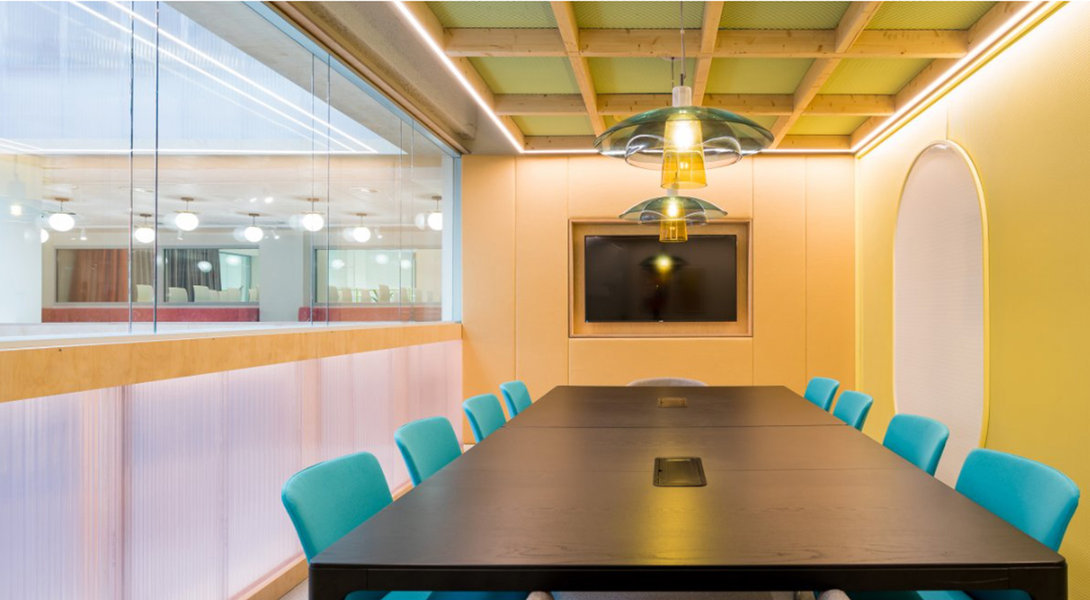 New courtyards and rooflights have been opened in the existing structure and tonnes of natural plants have been integrated in the space in order to provide each office desk with an interesting view out into either the city or a garden area. In Binom's experience, having a place to look at is key for wellbeing and efficiency in working environments. Given the constraints of the given site, making the interior feel like an exterior green space and creating a singular iconic design have been the two keys to success
Location: Madrid, Spain
Client: Utopicus / Colonial
Programme: Siteworks to be completed 2021
Lead Architect and Interior Designer: Binom Architects
Local Architect DF: RCCyP
Structural / M&E Engineers: RCCyP
Lighting Designer: RDT ingenieros
Acoustic Consultant: CGM
Landscape Design: Vericuetos
Main Contractor: Construcia